Available Jobs
At Propst Construction, we believe success starts with having a team you can count on. Over the years, Propst Construction has invested in people and built relationships that extend beyond our construction projects. On the job, you will be working with industry professionals at all levels in their careers. We are looking for reliable, hard-working individuals that want to succeed with our team. Below is a list of current job openings and their descriptions.
Truck Driver- Class A (Combination)
Propst Construction Company is seeking experienced truck drivers with a valid Class A driver's license. Applicant must have previous experience driving, good driving record, pass drug screening, DOT physical and have a current CDL license. Duties will include driving a dump truck with tag trailer hauling equipment, rock, dirt, asphalt, etc.
Propst Construction Company pays 100% of all full time employees' health insurance, dental, group life and AD&D coverage. Propst Construction also provides paid vacation and the opportunity to participate in our company sponsored retirement program. For a full description of benefits, please see our benefits page.
Propst Construction Company offers competitive wages with salary and additional benefits being commensurate with your experience.
Propst Construction Company is an Equal Opportunity Employer.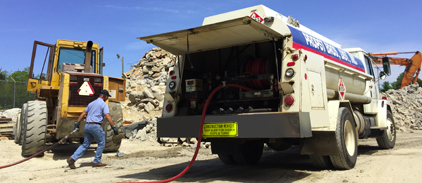 Concord fuel distributor needs a dependable individual that is experienced in hard work outdoors. Must be responsible, attentive, able to work with minimal supervision, willing to work in any weather, able to lift and move at least 50 pounds regularly, able to climb/dismount trucks and equipment safely, and able to drive a manual transmission vehicle. Applicant must pass pre-employment and random drug screens. Some weekend work may be required with advance notice. Local deliveries only-NO OVER-THE-ROAD!
Class A or B CDL is required, with minimum 2 years' driving experience and clean driving record. HAZMAT and tank endorsements preferred, but Company may allow right candidate to obtain these credentials during the training / probationary period.
Job description includes but is not limited to:
Fuel delivery and customer service for residential and commercial accounts.
Fuel will be pumped into tanks and directly into construction equipment.
Must be familiar with Cabarrus County and be able to locate delivery addresses.
Must be able to distinguish between types of heavy equipment.
Deliver related packaged and drummed goods.
*General upkeep of trucks and facilities (mowing, painting, vehicle upkeep).
Successful candidates will be team-oriented and willing to help when and where needed in our small organization. We place a high value on honesty and being able to work well with others. We expect a professional attitude and appearance at all times, and uniforms will be provided after 30 days on the job at no cost to the employee.
Position is full time and will include benefits and paid time off after successfully completing our 90-day training / probationary period. We will consider candidates who prefer seasonal or part time hours as well.