Propst family donates antique fire equipment back to the city.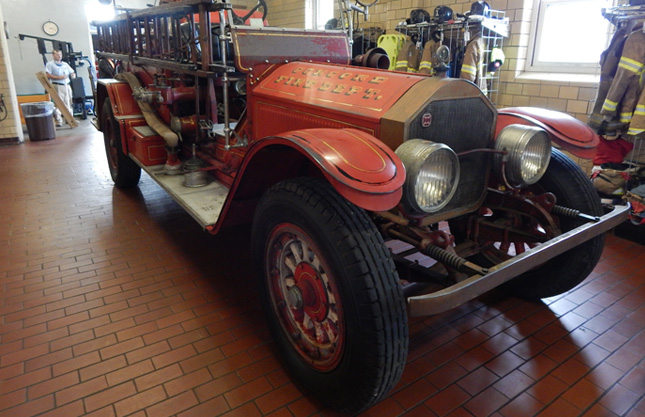 After spending decades in the care of the Propst family, two antique fire apparatuses have been returned to the City of Concord. A 19th century hook and ladder wagon and a 1924 American LaFrance Fire Pumper were recently donated back to the Concord Fire Department after Jimmy Propst contacted Mayor Padgett to offer the equipment. Fire Chief Ray Allen then worked with the family to arrange their return.
Jimmy Propst has kept the equipment in storage on the family's property since the 1970s. His grandfather John Miller was Concord's Fire Chief from 1900 until 1949.
The wagon was originally used by the Concord Hook and Ladder Company, one of the predecessors to the Concord Fire Department. The company was staffed by African-Americans and its primary functions were to ventilate the fire and perform overhaul, the process of exposing hidden fire. It was used until the 1920s. The department is currently working with a craftsman in Lincolnton, North Carolina to restore the wooden wheels on the wagon and a current Concord Fire Captain has volunteered to paint it.
The Engine was purchased by the City in 1924 and is believed to have been used until the late 1950s. The 1924 American LaFrance is chain driven and open air, both common to fire apparatus of the day. The city hopes to collaborate with partners within the community to restore the vehicle, similar to the process used to restore the 1963 Seagraves Pumper, when Roush Racing partners with the City.
"City Council has established a goal to convert the current Station 1 on Church Street into a museum when it is no longer used as a fire station.." said Chief Allen. "These will make wonderful additions and we thank the Propst Family for taking such good care of them all these decades.